Welcome to our Website

Trichy K Ramesh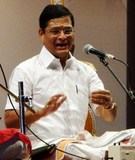 Trichy K Ramesh, son of Sri S Kalyanaraman and Smt Pattamal, was born in 1965 amidst the family who were discerning and appreciating music. Being a graduate of commerce, he had his early tutelage of music under
More...
Carnatic Music


Carnatic music, considered to be one of the ancient Indian Art-form originated from Pancha-mukham of Lord Shiva, is widely believed to be bestowed upon mankind through Saint Narada and Lord Hanuman. Its traces are also found in the Sama veda, one among the Four Vedas of Hinduism. Over million years, Carnatic music itself has undergone various phases of evolution; various stalwarts and pioneers have dedicated their heart and soul in disseminating this art form.
Trust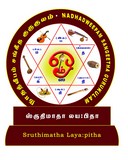 With a view to maintain the traditional lineage of enriching and propagating Carnatic music, NADHADWEEPAM TRUST was founded by Sangeetha Vidhwan Trichy Sri. K. Ramesh in the year 1999 in the district of Tiruchirapalli.More...

forthcoming Events:
19th Anniversary and 109th Birthday Celebrations of Sangeetha Kalanidhi Semmangudi Dr.R. Srinivasa Iyer from 26th July 2017 Wednesday to 30th July 2017 Sunday at Sri Sringeri Vidya Bharathi Bhavanam. Read more...